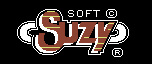 Suzy Soft was a Yugoslav/Croatian video game software publisher founded in 1985 as software division of Suzy Records music publisher. Company headquarters were in Zagreb. It was one of the first Yugoslav company dedicated to software publishing.
Suzy Soft published several video games and programs for ZX Spectrum, Commodore 64 and Orao by various Yugoslav developers.
Sadly The Suzy Record management ditched the computer publishing department, so Suzy Soft became defunct in 1988.
That is also the reason that some games (software titles) were never released.
Known Releases
1985 releases:
SF001 Dobro jutro, programiranje (ZX Spectrum)
SF002 Loto 7 od 39 / Loto analiza (ZX Spectrum)
SF003 Ali Baba / Svemirska priča (ZX Spectrum)
SF004 Vruće ljetovanje (ZX Spectrum)
1986 releases:
SF005 Velika nevolja / Joe bankar (ZX Spectrum)
SF006 Bajke (ZX Spectrum)
SF007 Vjetrenjača / Teatar (ZX Spectrum)
1987 releases:
SF008 Flower man (C64)
SF009 Television / Vuk (ZX Spectrum)
SF010 Mica spremačica / The Drinker (ZX Spectrum)
SF011 Ali Baba (C64)
SF012 Pećinski heroj (ZX Spectrum)
SF013 Slagalica (C64)
SF014 Atomski Ratnik (C64)
1988 releases:
SF015 Ključ /Western Girl aka Djevojka sa zapada (ZX Spectrum)
SF016
SF017 Game mix 3 arkadne igre (ZX Spectrum)
SF018 Ključ (C64) was never released
Additional Releases
1985:
Zodiak Strip, (ZX Spectrum)
Bajke, Eurorun and Smrkci aka Štrumpfovi was released together with XENON
1988:
Grand Prix ITD BBB (ZX Spectrum) Game was on Vinyl record, album "Skidam te pogledom", "ITD Band"
Orao No:O (Several releases for Orao Computer)
If anyone have any details, image or tape regarding the following titles please let us know, put your details in comment bellow. Do not worry about privacy as comments needs to be approved!
SF009 Television / Vuk (found by Author Stevan Majstorovic)
SF014 Atomski Ratnik (C64)
SF016
You can download some of these games on the following link: http://retrospec.sgn.net/users/tomcat/yu