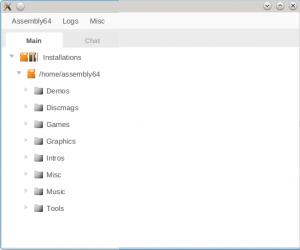 Assembly64 is tool written by Fredrik Åberg in java that will provide you synchronization with  CSDB, C64.com, C64Tapes.org, C64 Gamebase and some others sites with Mostly Commodore 64 files cartridges, tapes and disk images, but there is also some Commodore 128 and  VIC20 content. Once you have downloaded selected content it will only downloads the delta content between local and available content on the server.
But it is not just tool that will download collection of almost all chosen Demos, Disc magazines,Games, Graphics, Intros, Misc,Tools and other Commodore related files to your hard drive/SD card, but it also allow to upload your stuff for preservation as well.
In example one can use Assembly64 to check their disks, this is done by verification of 8 checksums per entry, allowing single byte to be corrupt. of course same stands also for preservation and upload of files.
A Quick How to Start.
Now for some people Assembly64 site may be unavailable or even reported fake, this is because site is at the moment on ddns.net and it does not have certificate, but be assured it is legit.
Another thing there is just bare minimum of manual how to start, but for windows user download assembly64-bin.zip unzip it, create Download64 folder where you want all the files and run, right click on "Installation" and "Add new location" and now point to wished folder.
For linux users do not follow instructions to download Java10 or Java11 from Oracle, java10 is abandoned, java11 is not supported. Due Oracle path with java future versions will be probably recompiled with java8 on all platforms.
Install java8 on your linux and download assembly64-j8-latest.jar, create Download64 folder and start java -jar assembly64-j8-latest.jar right click on "Installation" "Add new location" and point to  Download64 folder. And you may want to use light theme.
Now that you have installed from menu chose  what you want and there goes the download 🙂  In linux there is problem with browsing folders so use stock from your desktop that you use.
Now the part that I did not mention is that you have to register and that may or may not work, if it does not work find make a post on FB page and someone will help you.
When you select categories that you want to download it will download it quick in zip file, but zip will be unzipped! Author of this text did not select everything available and it already eat 29GB of disk space.
Another feature in Assembly64 is Chat, the line with Unknown is not really my handle, it is probably due registration bug.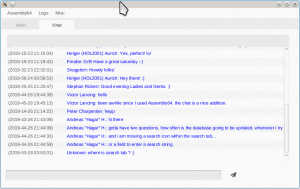 From time to time make sure that you right click on Download64 folder and update all and for now do not expect daily updates.
Over all Assembly is good project and very usable software as it totally automate downloading of software and it is perfect for every Commodore user that want to have nice sorted and all available files on one place, ready to be uploaded to SD card and use in SD2IEC,Ultimate64,RPi1541 etc. And If this bring a big smile on your face consider donation for Assembly64 use and you will be not just Assembly64 Hero but you will get two options more Search and Sidify.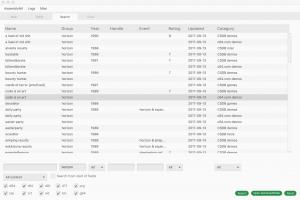 link:Assembly64 site
link:Assembly64 FB page