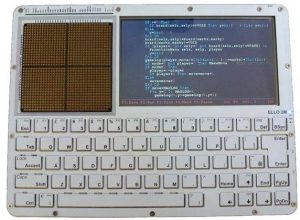 ELLO 2M is a DIY, stacked PCB portable computer for learning BASIC or C to program and experimentation. It is the modern version of a REAL retro style computer. The entire computer is built as of 6 PCBs with 7" display touch panel and a battery. It is all about simplicity and pure joy of making stuff without plastic enclosures, no molds, and no mechanical parts.
The hardware is built around PIC32MX470-120 including three microSD drives (one internal), RF transceiver, RTC, serial NVM, buzzer, and a solder-less prototyping space built from four PGA sockets, for electronic experiments.
The idea behind ELLO is not to boast with the top parameters, but to make a nice and cute, pure entry level machine. I hope you enjoy it!
source:ELLO 2M (MX470)
crowdsupply:ELLO 2M: A DIY Computer for Hobby and Education