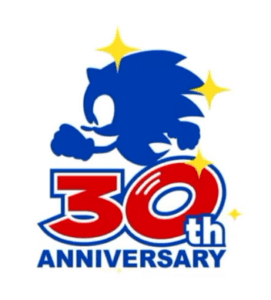 It is 30th anniversary since the game Sonic the Hedgehog is released by Sega Japan in 1991.
Sonic the Hedgehog become first game in Sonic series and serious media (comics, cartoons,  movies) franchise created and owned by Sega. Main star is Sonic, an anthropomorphic blue hedgehog, who battles against mad scientist, also known as the evil Doctor Eggman.
In game our hero Sonic the Hedgehog is doing a lot of action jumps, spins, run and roll to collect fast as possible, golden rings and battle against many menacing enemies and evil Doctor Eggman.
So how to best celebrate 30th anniversary, rather than direct porting of the SEGA Master System 8 bit to another 8 bit system seem always great idea.
Sonic The Hedgehog is coming to our Commodore 64 and Commodore 128 (in C64 mode) this December 2021 as announced by mr.sid!

The game require at least 256KB REU (Commodore's RAM Expansion Unit) as DMA REU swap is used to to allow the fast scrolling platform action of a Sonic game .
You can see yourself that game looks great, with beautiful graphic, pleasant SID sounds, six full action levels to play and features very smooth and fast scrolling. Game is a direct port of the SEGA Master System 8-Bit version of Sonic the Hedgehog, with about 64 KB of code hand-translated from the Z80 to the 6502 CPU.
Similar was done to Pentagram ZX port to C64 C128 plus4 (Perhaps, some day, we will see, someone, that will use real Z80 cpu in Commodore 128 and not translated Z80 code to run with VIC2 and/or VDC! It would be really interesting to see Z80 in Commodore 128 used for gaming and not just for CP/M 🙂
Using REU is similar story as Prince of Persia, but instead being REU exclusive game, Prince Of Persia was released on Easy Flash Cartridge, but does not scroll fast as Sonic, so hope for version of Sonic The Hedgehog on Easy Flash cartridge is probably not possible, even that this would allow to play more users to play Sonic on real Commodore 64 and Commodore 128!
We are happy even with the REU version of game, as there are many REU clones and Ultimate cartridge can be also used as REU.
And here is a Sonic the Hedgehog Announce video:
The game will be released as a FREE download in the coming weeks, this December, totally great way to celebrate Sonic's 30th Anniversary and we at retro-hardware, we do know that it will be the game of the 2021!
Thank you for news mr.sid 🙂
Source:Sonic the Hedgehog for C64/128 + REU