We at retro-hardware have to admit, that title sounds cheap, fake and hard to believe  news and , but as you will read further you will found that title and the entire article has solid ground, extensive investigation, retro elements and is backed with sources.
Apple Corp. Ltd history: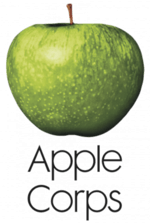 As it say in title interesting story begins in 1967 when "The Beatles" had and extra cash and they decided to invest in a company with main activities on music (records), films (movies) and electronic. So in the beginning of the 1967 Apple Corp. ltd started to exist. In autumn of 1967 Beatles opened London Office in 94 Baker Street.
If Baker Street sounds familiar you are right the most famous fictional detective Sherlock Holmes had quarters at the address of 221B Baker Street.
In 1968 Interview John Lennon was asked in NBC's Johnny Carson's Tonight Show, by guest host Joe Garagiola "How about this new organization, 'Apple'?"
John Lennon commented: "Oh yeah. Well you see, our accountant came up and said, 'We got this amount of money. Do you want to give it to the government or do something with it?","So we decided to play businessmen for a bit, because, uhh, we've got to run our own affairs now. So, we've got this thing called 'Apple' which is going to be records, films, and electronics– which all tie-up."
Apple Corp. was present in various fields through a number of subsidiaries:
Apple Electronics
Apple Records
Apple Films
Apple Publishing
Apple Retail
Apple Studio
The most successful  subsidiaries were Apple Records,  Apple Films,  Apple Studio and somehow Apple Publishing.
In 1968 Apple Corp. created "audio books". It is fun to note that "audio book" term was invented 30 years later.
Beatles partnership was dissolved in 1975, but it was decided that Apple Corps should continue working to present day.
So far we saw green apple (Apple Corp. Ltd) , red peeled apple (Apple Film), but where is our bitten apple? In 1975 it does not yet exist.
Apple Computer history:
I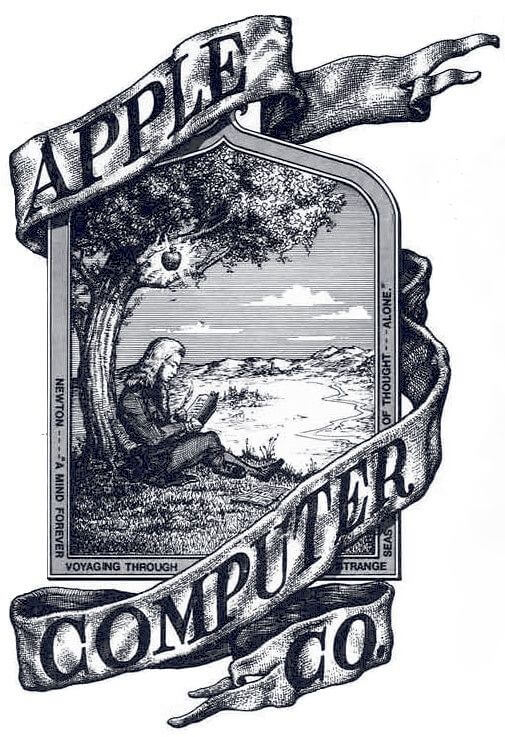 n April 1976 American Apple Inc. was founded by Steve Jobs, Steve Wozniak, and Ronald Wayne in Cupertino, California to sell Wozniak's Apple I personal computer. It was incorporated as Apple Computer, Inc. in January 1977. Picture on the right was the first Apple logo.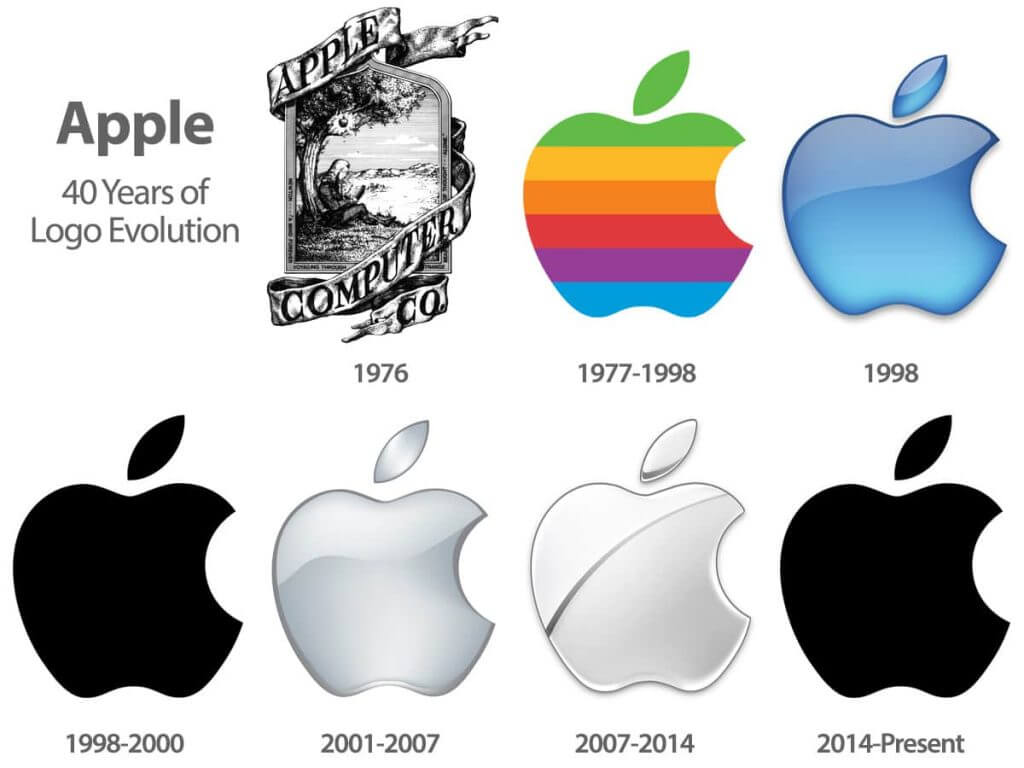 Apple logo evolved over time. In 1977 was drastically changed to bitten apple, in 1998 changed colors several times, but form of a bitten apple stays for more than 40 years.
From now on, we can conclude that  John Lennon's Apple and Steve Jobs Apple(s) are not the same Apple and that these Apples does not have anything in common except Apple in name and logo.
And same Apple creates new age and History of trademark disputes.
Battle of Apples history:
In 1978, Apple Corps, the Beatles-founded holding company and owner of their record label, Apple Records, filed a lawsuit against Apple Computer for trademark infringement. The suit was settled in 1981 with $80,000 being paid to Apple Corps.
However there was a condition of the settlement, Apple Computer agreed not to enter the music business, and Apple Corps agreed not to enter the computer business.
So did Apple Computer enter to music business ? Of course they did, several times.
In 1986 Apple added MIDI and audio-recording capabilities to its Apple IIGS computer with  the Ensoniq Digital Oscillator Chip (Ensoniq ES5503 DOC)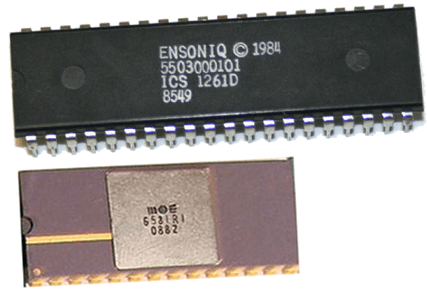 To explain you the importance of Ensoniq ES5503 DOC It would be sufficient to say that it is brainchild of Robert Yannes, the man responsible for the MOS Technology SID (Sound Interface Device) chip in the Commodore 64 and 128.
So in 1989 Apple Corps sue again, claiming violation and get  settlement agreement in 1981.
Sad Fact#4: This additionally helped in killing successful  Apple II series, for other Sad Facts check this artice about Apple Lisa.
In 1991  Apple Corps sue again and another settlement of around $26.5 was reached. This time an Apple employee Jim Reekes included a sampled system sound called Chimes to the Macintosh OS (the sound was later renamed to sosumi, to be read phonetically as "so sue me").
As outlined in the settlement was each company's respective trademark rights to the term "Apple". Apple Corps held the right to use Apple on any "creative works whose principal content is music", while Apple Computer held the right to use Apple on "goods or services … used to reproduce, run, play or otherwise deliver such content", but not on content distributed on physical media. In other words, Apple Computer agreed that it would not package, sell or distribute physical music materials.
In September 2003, Apple Corps again sued Apple Computer for breach of contract, by using the Apple logo in the creation and operation of Apple Computer's iTunes Music Store, which Apple Corps contended was a violation of the previous agreement.
In opening arguments on 29 March 2006 in England, Apple Corps lawyer  stated that in 2003, shortly before the launch of Apple Computer's on-line music store, Apple Corps rejected a $1 million offer from Apple Computer to use the Apple name on the iTunes store.
On 8 May 2006 the court ruled in favor of Apple Computer.The judgment orders Apple Corps to pay Apple Computer's legal costs at an estimated UK£2 million.
Side note#1:At the January 2007 Macworld conference, Apple CEO Steve Jobs featured  Beatles content in his keynote presentation and demonstration of the iPhone.
On 5 February 2007 all of trademark lawsuit, between the Apple companies, Apple Inc. and Apple Corps as they announced a settlement of their trademark dispute under which Apple Inc. will own all of the trademarks related to "Apple" and will license certain of those trademarks back to Apple Corps for their continued use, with each party bearing its own legal costs, and Apple Inc. will continue using its name and logos on iTunes.
The settlement terms are confidential, although according to wiki some newspaper stated that Apple Computer was buying out Apple Corps' trademark rights for $500 million.
Steve Jobs, Apple's CEO commented on the settlement, said, "We love the Beatles, and it has been painful being at odds with them over these trademarks. It feels great to resolve this in a positive manner, and in a way that should remove the potential of further disagreements in the future."
Neil Aspinall, manager of Apple Corps said, "It is great to put this dispute behind us and move on. The years ahead are going to be very exciting times for us. We wish Apple Inc. every success and look forward to many years of peaceful co-operation with them."
Side note#2:In early September 2007, an Apple press release for new iPod touch and iPhone price cut was entitled "The Beat Goes On", same title for the Beatles' last press release before splitting up.
Beatles albums on iTunes story:
Although Beatles albums was not available from the iTunes store, each Beatle's solo work could be accessed and downloaded on this service.
After years of battle for  The Beatles' music label Apple Corps was involved in a bitter trademark dispute with Apple the computer company. The fault for no Beatles albums on iTunes was down to EMI.
Finally in November 2010 after years of negotiations Apple Computer offered Beatles albums on iTunes.
source: www.applecorps.com
source:www.beatlesinterviews.org
source:BBC news Beatles albums offered on iTunes
source:Apple Corps wiki
source:Apple Inc wiki
source:Apple Corps vs Apple Computer wiki
source:Ensoniq wiki
source:Sherlock Holmes Baker Streat 221B